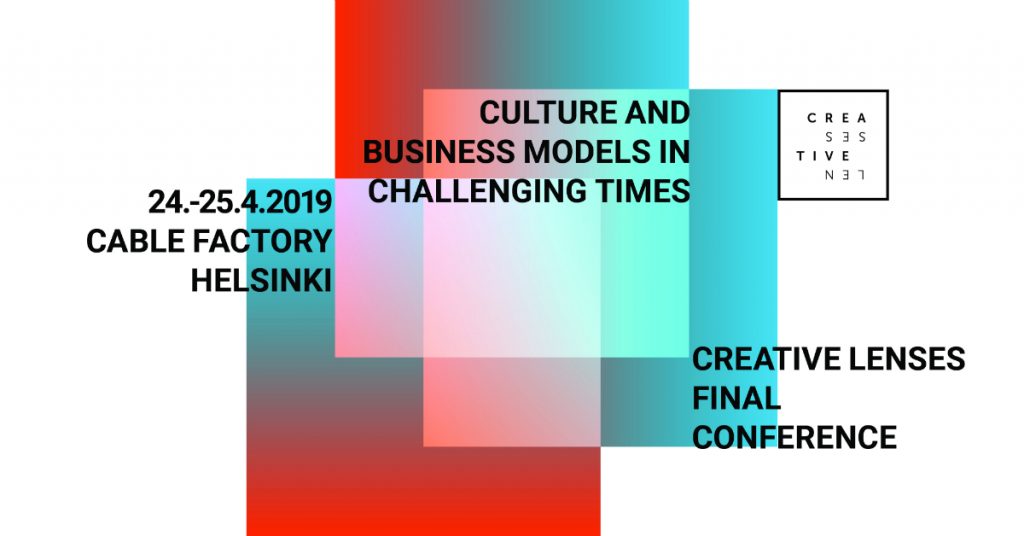 Creative Lenses Final Conference: Culture and Business Models in Challenging Times
Date: 24-25 April 2019
Location: Helsinki, Finland
Venue: Cable Factory (Kaapeli in Finnish)
Venue address: Pannuhalli hall, Cable Factory, Tallberginkatu 1, 00180 Helsinki, Finland

About the Conference
Creative Lenses Final Conference "Culture and Business Models in Challenging Times" is a two-day event that explores how arts and cultural organisations can adapt to changing environments and become more sustainable by rethinking their business models. It brings together the leading cultural practitioners, funders, policymakers and researchers to speculate on organisational sustainability, business model change and cultural value within the sector.
The Conference includes insights, perspectives and tools developed during a four-year collaboration project, Creative Lenses, funded by the Creative Europe programme and connects these with other initiatives, projects and collaborations in Europe and beyond.
Main themes of the Conference
Business Model Thinking: Why are the business models of arts and cultural organisations increasingly discussed? What are the different approaches arts and cultural organisations take to thinking about or changing their business models? What are the implications of business model thinking?
Value and Valuing in Arts and Cultural Organisations: What are the different ways of understanding the value that arts and cultural organisations embody, create and realise? How do they balance conflicting missions and priorities?
Making Sense, Impact and Research: How can arts and cultural organisations learn from, about and with their audiences and stakeholders? What are the different ways of re-imagining impact and knowledge co-creation?
What you will get from attending this event?
Opportunities to hear insights from action research on cultural and arts organisational change and resilience in Europe and beyond;
Access to findings and frameworks developed through the four-year Creative Lenses programme;
Opportunities to debate core issues with peers and build new networks with people concerned about the future of the European cultural sector.
Who is this conference for?
Professionals involved in running arts and cultural organisations, funders, evaluators, consultants and advocacy and capacity building experts, policymakers and public representatives, researchers in cultural management and leadership, the humanities and business and management and anyone interested in shaping the future of the European cultural sector.

Need a place to stay in Helsinki? 
We prepared a list of recommended hotels for you!
Check it out to find accommodation that suits you best.
SUBSCRIBE to our newsletter to get updates on the conference.